Intentional Interpretation of the Poetic Text as a Key to the Author's Self-Concept
Keywords:
Author's Self-Concept, Intentional Interpretation, Linguistic and Culturological Approach, Poetic Text, Symbols.
Abstract
Author's self-concept within our meaning is the self-presentation of rhymes in the content-related structure and reveals itself in the context of intentional interpretation of the poetic text, i.e. decoding the subject-matter and ideology rooted in it, complex of imageries and symbolic components. Hitting a target in seeking the key to the author's self-concept is undertaken through the case study work with The Spring Quran, a piece of poetry by the poet of the Silver Age of Russian literature (1890 – 1922), "the son of Asia" Velimir Khlebnikov and is confined in interpreting implications used by the author in connection with the certain sources and motives, i.e. symbolic performance as of mythological and religious (both Christian-like and Muslim). Khlebnikov's "I" – self-concept – in the poem The Spring Quran implicates the author's creed, aiming for the veracity through the tree of knowledge and admitting the religious values, faith in divine justice. Therefore the author's self-concept is the artistic oneness of truth-centered postulates and author's intentions to give utterance to them, identity of imageries and oneself. Interpreting the imageries and symbols of theologian, poplar, horn, sky, green, blue, etc. interlaced in the poem proves our case.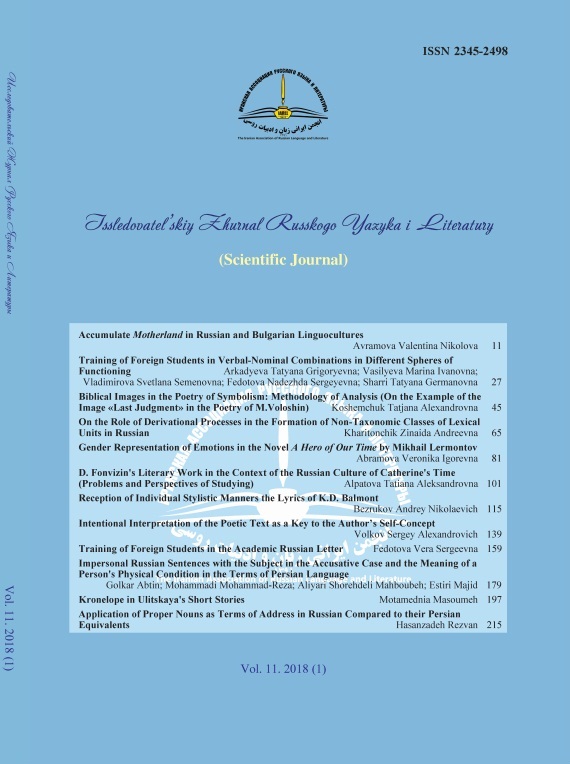 How to Cite
Волков, С. (2018). Intentional Interpretation of the Poetic Text as a Key to the Author's Self-Concept. Issledovatel'skiy Zhurnal Russkogo Yazyka I Literatury, 11, 139-158. Retrieved from http://journaliarll.ir/index.php/iarll/article/view/article-1-132-en.html