D. Fonvizin's Literary Work in the Context of the Russian Culture of Catherine's Time (Problems and Perspectives of Studying)
Keywords:
D. Fonvizin, Classicism, Comedy, Poetics, Catherine's Time.
Abstract
The report is devoted to the analysis of directions in the study of D.Fonvizin's literary works, which developed in Russian and foreign literary criticism in more than two centuries of recognizing the comedian as a key figure in Russian literature of the 18th century. The problem of the integrity of the Fonvizin's heritage in the school and university interpretation is posed; conclusions were drawn on the significance of such an approach for establishing the systemic links between the Fonvizin's comedies and other surviving works of the writer, as well as the historical and literary context of Catherine's time. In the center of the report is the problem of the value orientations of D.Fonvizin's creativity. For the first time she was raised in the "Message to my servants ..." (early 1760s) and subsequently developed in both drama and prose, and the journalism of the writer. Fonvizin's artistic philosophy develops from the comprehension of the spiritual crisis of contemporaries to the discovery of values that can be based on the building of one's personality: national self-awareness, education and upbringing, home and family, which ultimately means the possibility of internal independence, which the Russian nobility has become the main cultural the task of Catherine's time.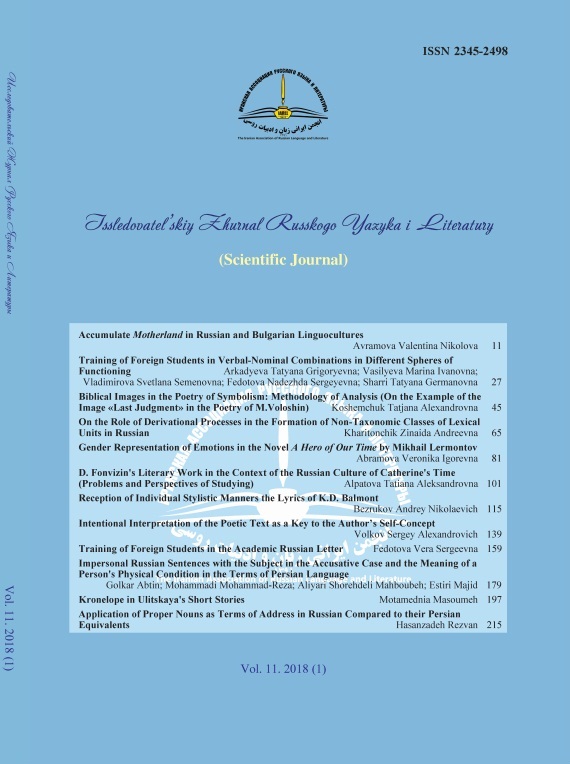 How to Cite
Александровна, Т. (2018). D. Fonvizin's Literary Work in the Context of the Russian Culture of Catherine's Time (Problems and Perspectives of Studying). Issledovatel'skiy Zhurnal Russkogo Yazyka I Literatury, 11, 101-114. Retrieved from http://journaliarll.ir/index.php/iarll/article/view/article-1-135-en.html