Accumulate Motherland in Russian and Bulgarian Linguocultures
Keywords:
Accumulation, Homeland, Motherland, Fatherland, Tatkovina, Native Country.
Abstract
The article deals with the accumulation of the Motherland in Russian and Bulgarian linguocultures. The essence of the term we have proposed is explained. Attention is drawn to the similarities and differences in the use of the units under consideration, which serve to solve the national phenomenon, expand the concept of the linguistic picture of the world, and understand the specific features of different cultures. In the paper, the values ​​of the accumulation in explanatory, synonymous, etymological dictionaries, prosaic and poetic texts, folklore (proverbs and sayings) are stated, as well as statements and thoughts of personalities with national authority. Attention is also drawn to the extralinguistic factors that led to the emergence and use of this phenomenon. Descriptive, taxonomic, comparative-historical and comparative methods are used in the work as general methods of linguistic research. As, an auxiliary component analysis was used to identify all the semantic parts of the linguistic unit that represents the accumulation. The results of the study showed a common and different in the accumulation in question in two linguocultures - Russian and Bulgarian.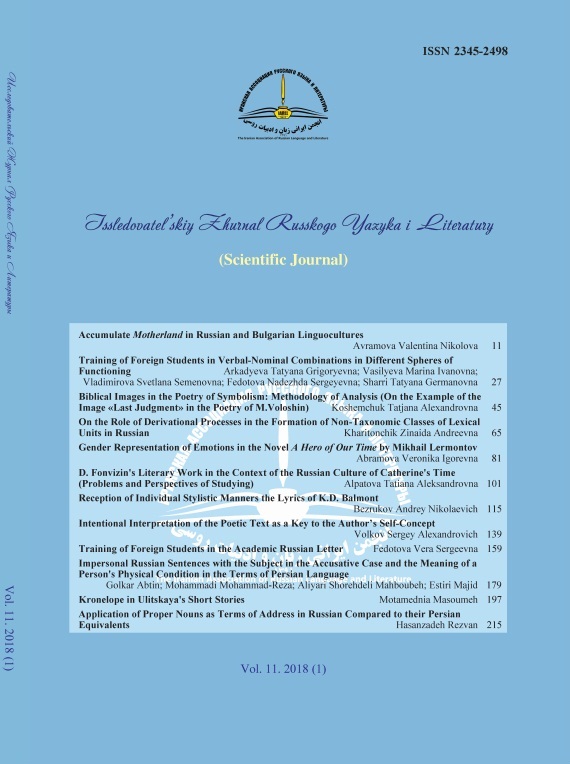 How to Cite
Николова, В. (2018). Accumulate Motherland in Russian and Bulgarian Linguocultures. Issledovatel'skiy Zhurnal Russkogo Yazyka I Literatury, 11, 11-25. Retrieved from http://journaliarll.ir/index.php/iarll/article/view/article-1-127-en.html