Pushkin's Sonnetiana
Keywords:
A. Pushkin, The European Canon, Russian Sonnet, Free Sonnet, The Pushkin Sonnet.
Abstract
The article systematizes the modern achievements of pushkinistics and of studies in prosody and literary genres as they deal with Pushkin's sonnets. It makes an attempt to recreate the real picture of the sonnet experience of A.S. Pushkin as a complete and permanently developing artistic and aesthaetic phenomenon, presenting an ever-lasting treasure of the Russia style. Making reference to the difficulties and vicissitudes of the process of determination, and the extent and value of Pushkin's sonnet creation, the work shows the complex way to the scientific truth in the historical-literary process.
References
- Ahmatova A.A. (1976) Pushkin i nevskoe vzmor'e // Stihi i proza. L., Izd-vo «Lenizdat». S. 19−22.
- Blagoj D.D. (1967) Tvorcheskij put' Pushkina.1826-1830. M., Izd-vo «Sovetskij pisatel'». S. 337−451.
- Bocharov S.G. (2007) Filologicheskie sjuzhety. M., Izd-vo «Jazyki slavjanskih kul'tur». S. 25−53; 100−120).
- Grossman L.P. (1924) Oneginskaja strofa // Pushkin. Sbornik pervyj // Pushkinskaja komissija Obshh. ljubitelej rossijskoj slovesnosti. Red. N.K. Piksanov. M., Izd-vo «Gosizdat». S. 115−162.
- Grossman L.P. (1928) Mastera soneta // Sobr. soch. v 5 tomah. M., Izd-vo «Sovremennye problemy» N.A.Stolljar. T.4).
- Zyrjanov O.V. (1999) Pushkinskaja fenomenologija jelegicheskogo zhanra // Izvestija Ural'skogo gosudarstvennogo universiteta, №11. S. 5−12.
- Zyrjanov O.V. (2003) Jevoljucija zhanrovogo soznanija russkoj liriki: fenomenologicheskij aspekt. Ekaterinburg, Izd-vo «Ural'skogo universiteta». 548 s.
- Zyrjanov O.V. (2011) Logika zhanrovyh nominacij v pojezii novogo vremeni // Novyj filologicheskij vestnik. M., Izd-vo «Ippolitova». Tom 16, vypusk 1. S.76-86.
- Nepomnjashhij V.S. (1997) Tri soneta i vokrug nih // Moskovskij pushkinist, vyp. IV. M., Izd-vo «Nasledie». S. 191−219.
- Prokatov S. (2008) Pushkinskij sonet // Int. resurs: http://wplanet.ru/index.php?show=text&id=925
- Svjatopolk-Mirskij D.P. (1925), (2006) Istorija russkoj literatury s drevnejshih vremjon do 1925 goda. Novosibirsk. Izd. «Svin'in i synov'ja». 870 s.
- Skatov N.N. (2008) A.S.Pushkin // Istorija russkoj literatury XIX veka. 1800-1830. M., Izd-vo «Oniks». S. 220−316.
- Sperantov V.V. (1996) Miscellanea poetologica: Byl li knjaz' Shalikov izobretatelem «oneginskoj strofy»? // Philologica.T. 3, № 5−7. S. 125−131.
- Tomashevskij B.V. (1958) Strofika Pushkina // Pushkin: Issledovanija i materialy. M.; L., Izd-vo «AN SSSR». T. 2, S. 49−184.
- Hvorost'janova E.V. (2002) Russkie sonety A.S.Pushkina. K probleme pushkinskoj strofiki // Pushkin i ego sovremenniki: Sbornik nauchnyh trudov. Vyp.3. SPb., Izd-vo «Akademicheskij proekt». S. 9−29.
- Hvorost'janova E.V. (2009) Ritmicheskaja kompozicija russkogo stiha: istoricheskaja tipologija i semantika // Avtoreferat dissertacii d.f.n. Izd-vo «SPb universiteta».
- Fedotov O.I. (2009) Rec. na: Hvorost'janova N.V. Uslovija ritma. Istoriko-tipologicheskie ocherki russkogo stiha. SPb., 2008. // Vestnik Moskovskogo un-ta. Ser. 9. Filologija, № 1. S. 181−188.
- Fomichjov S.A. (2001) Oneginskaja strofa// Int.resurs: http://wplanet.ru/ index.php?show=article&id=27
- Jakovlev N.V. (1926) Iz razyskanij o literaturnyh istochnikah v tvorchestve Pushkina // Pushkin v mirovoj literature. Sb. statej. L. Gosizdat. S. 113–159.
- Jakobson R.O. (1987) Raboty po pojetike: Perevody. M., Izd-vo «Progress». 464 s.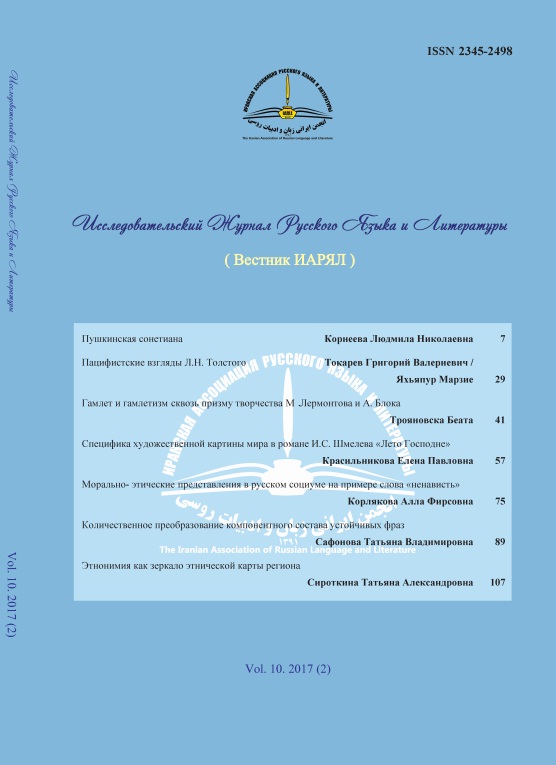 How to Cite
Корнеева, Л. (2017). Pushkin's Sonnetiana. Issledovatel'skiy Zhurnal Russkogo Yazyka I Literatury, 10, 7-28. Retrieved from http://journaliarll.ir/index.php/iarll/article/view/article-1-113-en.html